2012 Top 10 Prospects: Miami Marlins
by
kvschnitz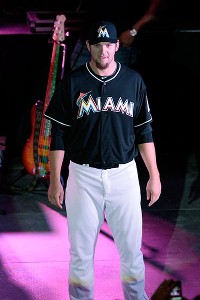 We're back in action. Since the 'Miami' Marlins are now the talk of baseball (weird since they really haven't been ever), we'll start the 2011 Top Prospects list off with them. Whether they get Pujols (won't happen) or Jose Reyes (could happen *prays not*), the Miami Marlins have a nice little stock of players at the major league level that were home grown talent.
So here is what is left of the Marlins system, which is growing fast.
1. Christian Yelich – Just keeps on impressing. Looks like a really nice pick up.
2. Jose Fernandez – Right handed power arm, Fernandez could dazzle in 2012.
3. Matt Dominguez – Injured for most of the season. Should be starting in the MLB now. Still questions with his bat.
4. Chad James – Crazy record of 5-15, but had a 3.80 ERA in High-A Jupiter. Walks were down a in 2011 which is nice to see.
5. Marcell Ozuna – Could be a legitimate 5-tool player, everything is slowly developing.
6. J.T. Realmuto – Converted to catcher, Realmuto shined and is now looking like the catcher of the future, rather than Kyle Skipworth. Realmuto demonstrated power (12 HRs), speed (13 SB), and can hit for average (.287). How desperate are the Marlins for a catcher? He will be in High-A and could reach the majors by 2013 if he keeps on this track.
7. Rob Rasmussen – Crafty left-handed pitcher from UCLA, Rasmussen can develop into a solid 4/5 starter or a nice bullpen option. However, he has a walking issue.
8. Adam Conley, LHP – Drafted in the 2nd round out of Washington State
9. Mason Hope, RHP – I do not have any information on this right hander. Mason Hope has an awesome name is coming out of the hot bed state of Oklahoma. He's not necessarily the 9th best prospect in the system, but he is a sleeper and I could see him here.